S-680T & S-680PC WIRELESS 5-AXIS SHAFT ALIGNMENT SYSTEM
For those complex applications that demand precision, the S-680T & S-680PC utilize super-linear PSDs combined with highly advanced electronic design to produce the most accurate system in the world today. Add in the most advanced, feature-rich software on the market and Bluetooth® wireless communication and you have a shaft alignment system that rises to the top of a crowded market.
We designed our Couple6 software to run on large-display, rugged tablets for the ultimate in usability and convenience. It features our Duo-Plane™ Live Move Screen, which displays and updates the values for both V & H alignment planes (4 axes) simultaneously. Couple6 also features our Easy-Guide™ approach to software navigation: just open the software, choose a file, and Couple6 will guide the user through the alignment and if needed, help text is just a click away. Advanced machine graphics continuously update showing the alignment of the motor as you move it.
The S-680's industry-leading accuracy comes from our patented Dual-Beam™ Technology that allows the measurement of offset and angle simultaneously with one PSD (sensor), thus eliminating 50% of measurement errors when using 2 sensors (all other systems use 2 sensors). But we didn't stop there. We went even further by using super-linear, 33-mm PSD's and state-of-the-art electronics to produce measurement accuracy that is 7-13 times better than our competitor's high-end systems.
Feature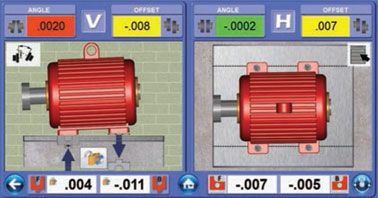 Technology: Dual-Beam™
Software: Couple6 for tablets and laptops
System configuration: S-680 system with R-1342T Fully Rugged Win 7/8 Tablet or R-1342P Fully Rugged Win 7/8 Laptop and Couple6 Software with S-1396-ALL Full Features License that includes all the optional features, such as Bolt Bound™, Thermal Growth Modeling Screen, 7 Spacer Shaft Format, Repeatability/History Ta ble,User Defined Tolerances, Vertical Machine, and many more. Couple6 Interactive Tour
Spesification

T-1290 Dual-Beam™ 5-Axis Wireless Target with 33x13 mm PSD and 0.5 micron res. and BT Class 1
R-1342T Fully Rugged Win 7/8 Tablet or R-1342PC Fully Rugged Win 7/8 Laptop with Couple6 software pre-installed
S-1396-ALL Full Features License & electronic manual.
A-980 Stainless Steel Bracket Set for 1.5" to 6" (37 mm to 152 mm) shafts with 4" (102 mm) and 8" (204 mm)Posts
A-980A Upgraded Bracket Kit with chain for 1.5" (37 mm to 305 mm) to 12" shafts plus 8"(204 mm) and 12"(305 mm) posts
A-1285A Narrow-Band Filter Light Shield for apps in direct sunlight.
2 Port USB A/C charging adapter for laser/target
USB charging/backup cable x 2
Rugged, large-capacity, sealed shipping case with custom-cut foam
Video
Tidak ada video untuk produk ini
Testimoni
Artikel Terkait dengan Produk S-680T & S-680PC WIRELESS 5-AXIS SHAFT ALIGNMENT SYSTEM